The Real Ethiopia
Custom curated tours for independent-minded travellers
What's Special About My Tours?
Listen
I try to understand a bit about your tastes and goals so that I can zoom-in on the options that will make your visit to my beautiful country unforgettable.
Organise
My years of experience have given me a solid network of contacts on the ground. Not just for the big attractions but off-the-beaten-track as well.
Guide
It's an honour to introduce visitors to Ethiopia and I take it very seriously. I want to show you everything (of course!) but I try to tailor my tours to your expectations.
What I Do
Time for a holiday that encompasses ancient history, glorious scenery and unusual wildlife?
Ethiopia has it all. And I will tailor a safari to suit your time scale, your interests and your budget. My name is Daniel Esayas and for the past 15 years I have driven private clients in my air-conditioned 4×4 on expeditions all over this country. Panethiopia is for the Private Traveller. Those of you who want to do it "real" not "nannied".
Where to go? Whether your interest lies in visiting our ancient churches in Lalibella, Lake Tana and Gheralta, or whether you are keener on hiking under canvas in the Simian mountains and visiting the hottest place on earth, the Danakil depression, or if your interest is bird watching and visiting local tribes, we can plan a tour that incorporates all or some of these fascinating places.
It will be unforgettable, that I can promise you!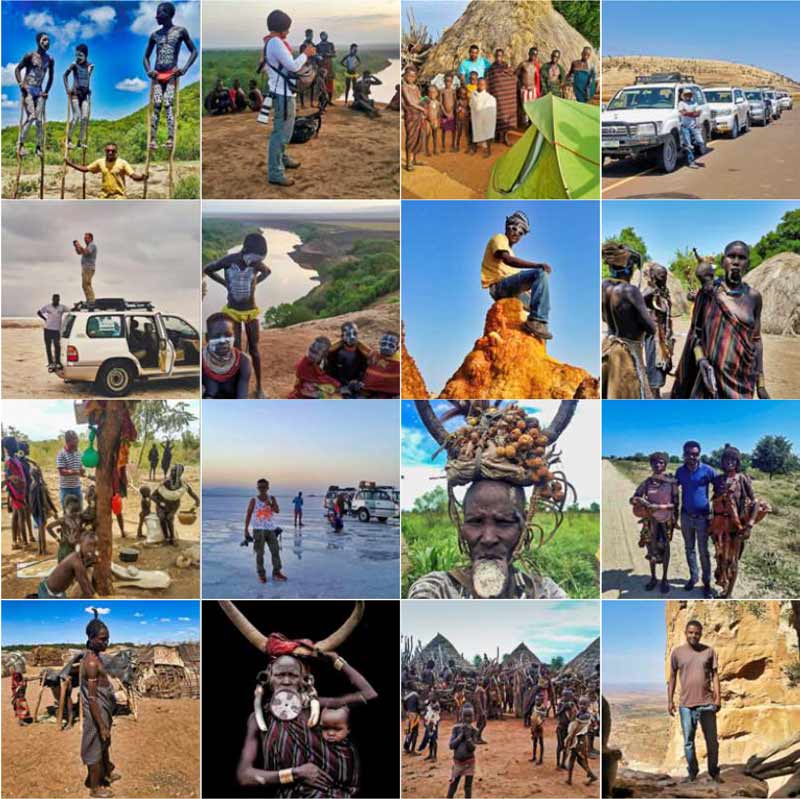 As an avid solo female traveler, I highly value safety, dependability and timeliness when searching for private tour guides and drivers. I found all of these qualities and more with Dani of PanEthiopia. He knows Mekele and the entire Tigray region very well (no map or GPS needed). I can attest to Dani's superb ability to tailor an itinerary appropriately to his clients' needs and wishes and I highly recommend his services.

Cherylw

Daniel gave us an experience we will always remember. His knowledge of the country, the people and customs is second to none. He was able to explain many things to us about what we saw as his English is perfect and his comprehension is as well.
I would recommend him to anyone wanting a driver & tour guide in Ethiopia, he made our journey unforgettable, safe and easy. 5-star service!

Sharon C

I had dreamed for the longest time of visiting the ancient tribes of the Omo Valley. That's not something to do by yourself, you need someone that knows his way around. Daniel was my guide, his knowledge and kind ways made this experience unforgettable. He made sure I went to the most incredible place, that I was safe (solo), had fun and learned a lot.

I highly recommend him!

Anouk

Dani organised our 2 week Christmas Safari of the Northern Route seamlessly, with humour, efficiency and expert local knowledge. He was wired into the various local communities like a local, he's smart & speaks good English. Unforgettable trip.  Go soon before it becomes popular. Bliss!

Jo

Exemplary service! We're a well-travelled trio & generally self-drive, so taking on a driver is a risk in terms of meeting our preferences. Any concerns were totally dispelled; he is humble, affable, and has an encyclopaedic knowledge of Ethiopia. We would wholeheartedly recommend Dani!

Ollie
Phone :
Email :
Address :
Addis Ababa
Dani Esayas, Office 108, Lex Plaza, Haile Gebre Silase Street, Addis Ababa, Ethiopia.

Mekelle
Dani Esayas, Office 102, Selam building , near Axum Hotel Mekelle.